The world is changing. And in the last few years, the world has witnessed the evolution of coworking spaces. Initially, coworking spaces appeared in the United States before the idea was replicated in the entire world. And Kenya was not exempted.
With the tremendous growth of freelancers, teleworking, localized businesses and boutique companies, coworking spaces such as Ikigai correspond to the needs of these nomads.
Derived from the Japanese concept meaning a reason for being, Ikigai is a collective of beautifully designed, wellness-focused workspaces in Kenya's capital Nairobi. The Coworking space is designed to inspire, support and challenge the community, as they embark on a journey of self-discovery. In addition, Ikigai, is on a mission to create healthy and happier teams across the globe through its nature inspired work spaces. All of its spaces promote well-being as the name suggest, notwithstanding innovation within the community.
The ambience, serenity, productivity, innovation and excellence cannot describe Ikigai which has so far hosted over 5000 entrepreneurs since its inception in November,2016.
Ikigai understands the different preferences of its community, and boasts of a variety of indoor and outdoor workspaces for individuals and teams.
The shared communal areas and an in-house café – 'Roasted Truth' at Ikigai offers members an opportunity to meet, connect and collaborate with fellow members. Additionally, Ikigai has an in-house, and iconic container private offices for individuals and growing teams of all sizes.
The membership packages are inspired by the members and their specific workspace needs. For instance, Ikigai's daily pass membership is designed around the career nomad who travels often for work. In fact, it is very flexible to connect with others and work in beautiful offices without the hassle of long-term leases and contracts.
At the core of all its memberships, is the premise of flexibility, convenience, and community. The types of membership plans include: private office, private office for a day, corporate, dedicated desk and coworking office. Click on the link for more details; https://ikigai.co.ke/
The team at Ikigai works hard to provide the community with everything they need from high speed internet and backup, unlimited tea and coffee, cleaning services, plant filled spaces and garden location, mail and package handling, community events, dog friendly spaces, phone booths, the list is endless.
Ikigai is also well known for being a home for diverse community of individuals and businesses from various disciplines. They range from creatives, consultants, budding and well-establish entrepreneurs, start-ups, SMEs, large corporates, to everyone in-between. The coworking space simultaneously provides endless opportunities for its community to work together, innovate and design multi-disciplinary solutions that benefit the environment, world and the global community.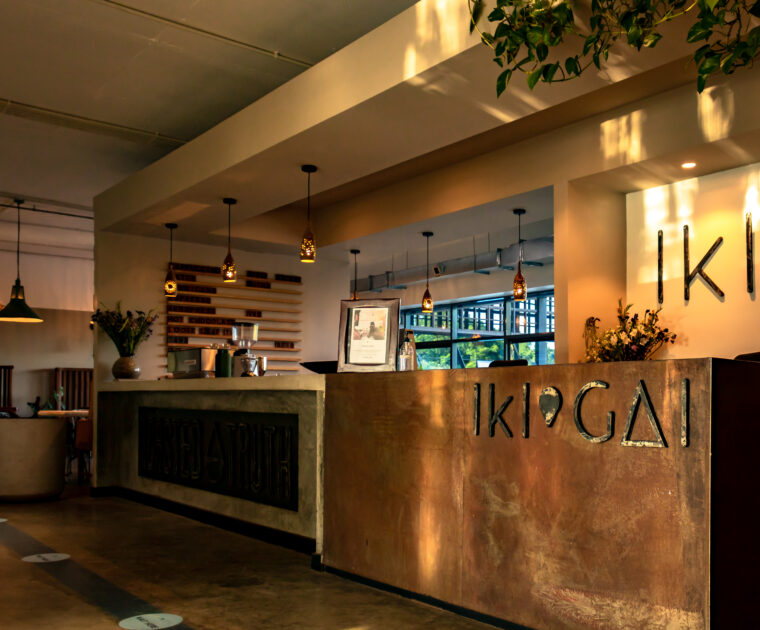 The four branches are located within Nairobi which include Westlands, Lavington, Lower Kabete and the upcoming Riverside Drive in July 2021.
Guided by the eight dimensions of wellness and the commitment to provide experiences that foster human connection, wholesome growth and learning opportunities, Ikigai offers exciting, unusual and dynamic events for its members and greater community.
It has hosted interesting conversations on innovation and business growth trends, intimate brunches and tastings, creative and wellness boot camps, book clubs, and so many more catering to its communities' interests and passions.
The coworking space boasts of its unique team. Their infectious spirit when one walks through their doors, reminisces unforgettable memories. Through their team, they have been able to grow and create gorgeous, intentionally designed Spaces that are warm, welcoming, and unique.
Secondly, it has committed to sustainability and contributes positively to the environment and the lives it interacts with. A better planet for them, and future generations has informed their ethos, biophilic design, interactions and ultimately – a happier workforce inspired by nature.
Besides, it advocates for wellness at work. The well-being of its community will always be of utmost importance.
Ikigai collaborated with 14 workspace providers to form the Workplace Operator Readiness Council. The council shared information and coordinate guidelines for teams to safely return to the office when the pandemic hit the world.
Ikigai is the founding member and the only workspace from the African continent on the council. And owing to its Commitment to provide safe work environments, Kaizen by Ikigai was launched. Kaizen which means "continuous improvement", embodies the ongoing commitment to practicing and enforcing the highest health and safety standards in its coworking spaces.
Ikigai is thrilled to be getting back to some form of normalcy and helping its members and their businesses thrive in this new context. Be part of Ikigai community when in Nairobi, and experience where nature and ambience meet. If so wish to contact Ikigai, please send an email through info@techub.no or admin@ikigai.co.ke. Techub is social too. Remember to follow us on Twitter, Facebook, Instagram and LinkedIn.