In Lake Victoria lies the dreamland of ancient historical magical Islands of Rusinga, Mfangano, and Ngodhe – places with amazing skies and birds offering more of the aquatic culture of the largest tropical freshwater lake in the world. Behind the breathtaking sceneries of Islands, there are many children born into stark reality and daily life marked with hopelessness. Poverty is the order of the day in these stunning islands.
But all is not lost. The debut of Ambassador Michael George Okeyo Memorial Foundation in 2016 founded by Deborah Aya Okeyo, an 87-year-old philanthropist gave hope to many. According to Deborah, the idea came when she was having a discussion with her relatives and friends about starting a foundation in honour of her husband Ambassador Michael Okeyo who passed on in 2011.
The islands were experiencing low retention rates by schools, sexual exploitation targeting school going children, high rate of teenage pregnancies, vulnerability to STIs and HIV/AIDs, poor quality of education, heavy workloads at home, and low performance in national exams due to lack of competent teachers and adequate infrastructures.
At that time, Deborah had turned eighty years, and her relatives feared that she may soon lose her memory, although no-one doubted her capability but all were worried about her age. Undeniably, Deborah defied her age and seven years later the Foundation continues to blossom boasting eighty-five students in total with sixty in secondary schools and fifteen in different universities across the country pursuing courses in Medicine, Engineering, Education, Environment, and Computer Science.
The foundation today which is managed by Deborah and her able board prides in the fact that it has been able to advocate for the reduction in the existing disparities in the handling of girls and boys, improved the retention and quality of education within the community, sensitized the community on the vulnerable positions of both girls and boys, promoted the enrollment of girls in non-gender stereotype courses besides introducing projects that rehabilitate and send children back to school and vocational training centres.
Sheryl Atieno, eighteen years – old, is one of the beneficiaries of the Okeyo Foundation. According to Sheryl, she knew about the foundation through her mother immediately after she finished her Kenya Certificate of Primary Education – KCPE. Sheryl says the foundation has impacted her life in a very big way. Initially, her parents could not take her to secondary school. In fact, she was destined to retake her KCPE exams before the foundation came through for her.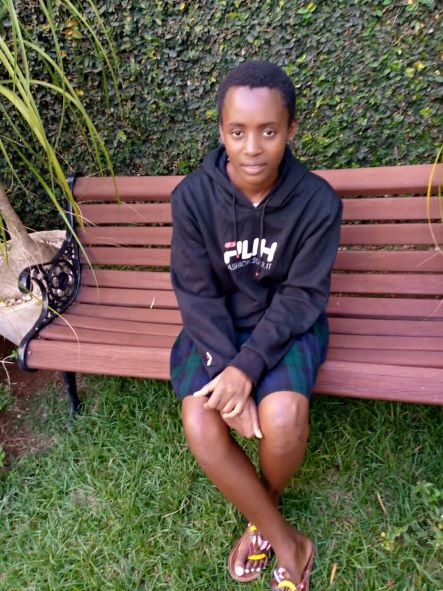 Sheryl Atieno, one of the beneficiaries of Okeyo Foundation finished her secondary education in 2021, and hopes to pursue an engineering course abroad.
Today, Sheryl is very excited and looks forward to pursuing a course in engineering but her worry is the tuition fee. She hopes that well-wishers will come on board and help her realize her dream.
Children like Sheryl all over the world have a right for education and all other rights that are associated with humans. The children who have access to their rights grow as independent individuals who can break through cycles of poverty, be empowered and take their future into their own hands whilst playing active roles in their respective societies.
For children in Rusinga Island, Debra has stood in the gap to make their dream come true no matter their circumstance. Besides, Debra has surprised many with her noble cause, and she lives by her late husband's mantra which states, "Those who dared to dream change the world and everything that has been accomplished by mankind started off as a dream."
Her desire to give every child an opportunity to pursue their dreams and realize their full potential is becoming bigger every day. However, Debra faces financial challenges that are making her not reach every needy child. According to Debra, the demand is increasing day by day. She is looking for individuals or organizations that share the same vision with her to walk in this journey of impacting and empowering young girls and boys to continue dreaming and realizing their potential.
The issue of access to safe water still remains elusive to many locals on the islands. This is another area that is causing Debra sleepless nights. The children are forced to walk long distances in search of water, wasting a lot of time instead of reading. Debra believes that water tanks will be able to solve the puzzle.
In addition, Debra has begun an endowment fund that would go along the way to support students for many years to come, and she strongly believes that should all be well by the time she turns 90, 100 children or more will have been rescued from dropping out of school to becoming senior and useful members of Society called Kenya. But do I say so?
If so wish to get in contact with Okeyo Foundation, please reach out through: info@techub.no
We are social too. Follow us on Twitter; Instagram; Facebook and LinkedIn for this and more stories!