Praise Asiimire, the founder of Praise Ug Honey has long had affinity for honey. Based in Kampala, Uganda, her farm is located in South Western in a district called Ntungamo.
The Bachelors of Arts in Mass Communication graduate, who has worked in communication field in different capacities, is yet to master the art of beekeeping. She admitted that she is still in the learning process on how to handle the bees.
Praise reminisces when at a tender age, her dad had at least a five littre bottle of local honey for his own consumption. But, her dad would not fathom how his honey got finished after only a few days. Little did he know that there was another 'honey lover' in the house. As a result, Praise's dad began beekeeping with only two beehives to supplement his needs.
After moving to Kampala, Praise would ask her dad to bring along some honey when visiting. It was until 2019, after Praise tried out small businesses which weren't bearing any fruits, and unsuccessful career as a Public Relations practitioner, that she decided to turn her love for honey into a business.
Armed with only 30 beehives and land donation from her dad, Praise began her journey in beekeeping and ever since, she has'nt looked back. Praise re-enrolled in the beekeeping course to sharpen her knowledge and she is always digging for information online to help her run the business.
Today, Praise is targeting the health conscious people, restaurants and hotels that do serve and cook with honey. She is also working on more collaborations within her local communities. Supporting and outsourcing from her fellow local beekeepers whilst improving on the livelihood of the beekeeper nevertheless, creating a positive impact to the environment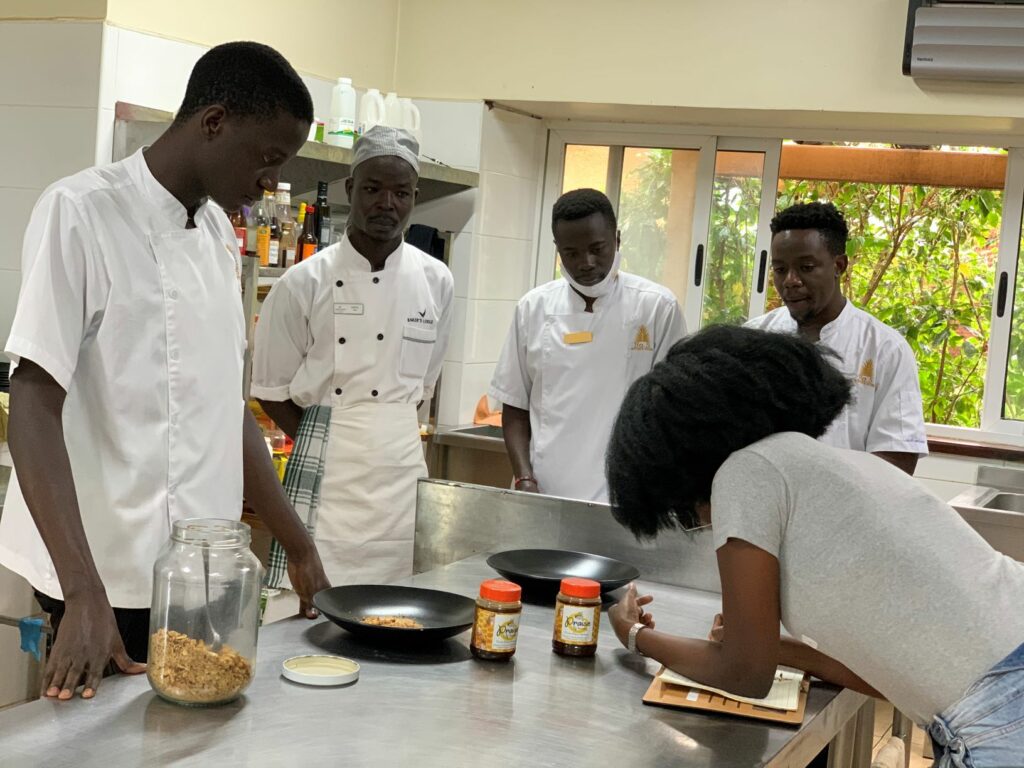 Praise Asiimire doing product demonstration with staff of one of the hotels she distribute her pure organic honey
Praise take a great joy in women empowerment and seeing female-owned businesses flourishing in her home country 'Uganda.'
For more information regarding Praise Asiimire's honey, please contact Techub AS through info@techub.no.
We are social too. Follow us on all our social media platforms by clicking on the below icons.