Ignite Afrika Sports Academy is one of the best leading football academies based in Western part of Kenya, a region well known for producing national sportsmen and women. The academy is one of its kind in Siaya County, a region flooded with football clubs that do not focus on emerging talent.
Co-founded by Raphael Mahulo and John Omondi Ogutu, the academy was incepted in June 2020, following the closure of schools due to Covid-19 pandemic. Besides, the children had started engaging in drugs, and teen pregnancy was increasing at an alarming rate day by day. The co-founders saw the need of creating a platform that would address the vices cropping up amongst the teens. And Ignite Afrika Sports Academy was borne.
Today, the football academy is providing comprehensive trainings at the same time leveraging on the opportunity to nurture young talents. Its values are based on quick-passing, technical ability, and possession-based football whilst always aiming at embedding world-class techniques right from the onset, encouraging young footballers to play and develop naturally.
Despite development of young talent being often at the forefront of football discussions across the globe with football enthusiast debating constantly over which clubs are investing heavily in their academies. In Kenya, football academies are not deep rooted, as most clubs rely on schools' tournaments to identify talents before signing the players. But, Ignite Afrika Sports Academy is breathing a new leaf into the sports sector in Kenya.
The academy targets children between the ages of 7 and 17 years, providing different football pathways to excel depending on their abilities and preferences. This is done over the weekends, as most of the children are in schools. During holidays, the trainings are done on Wednesday, Fridays, Saturdays and Sundays.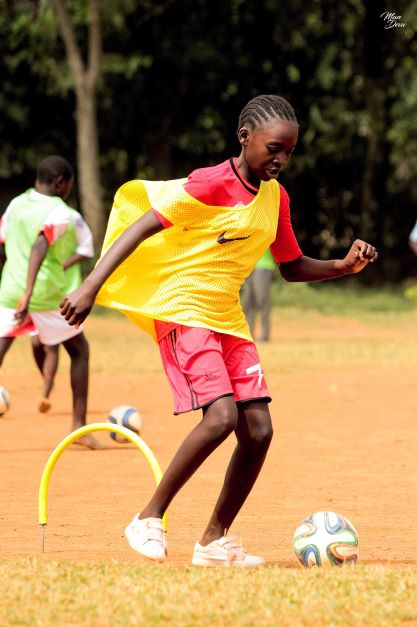 So far, the academy has attracted over 200 teens both girls and boys. Besides football, it also provides life skills training and mentorship programs. Through sports, the academy intends to nurture grassroot talents exposing them to the world.
The academy prides in the fact that the children are using high-tech training kits like ladder and cones despite being a rural based football academy. Also, the children have showed high level of discipline and school commitments.
Their programs are designed to promote corporate social responsibilities such as sanitary towels to its girls on a monthly basis and school fees for the needy pupils. The golden rule is that All athletes must be in schools.
The academy is also looking forward to be accredited by Football Kenya Federation. It has already submitted the necessary documents needed for the exercise.
Currently, the football academy is relying on community goodwill especially schools which are offering training grounds. It is also involved in agriculture to supplement the academy with food. The academy plans to introduce other sporting activities like table tennis. If so wish to engage Ignite Afrika Sports Academy, please contact Techub through info@techub.no
We are social too. Remember to follow us on our social media platforms for more article on startup ecosystem in Africa and Europe.