Most of African countries are gearing up for the next generation of fast 5G devices in oblivion of e-waste environmental threats. The 5G premise on fast internet speed in the wireless technology, ostensibly resulting in a dramatic increase in e-waste in Africa. Already, the continent is grappling with mountains of obsolete gadgets ranging from millions of smartphones, modems, fridges, stoves, chargers just to mention a few that litter the continent today.
The e-waste situation continues to worsen by day owing to the arrival of electronic gadgets from first world countries. According to the United Nation's Global E-waste Monitor 2020, 2.9 million tonnes equivalent to 2.5 kilograms per capita of e-waste was generated in 49 countries during 2019 alone.
From East to West, North to South, the story is the same. Sadly, this could be a pandemic in waiting if the e-waste threat is not dealt with accordingly.
Offering safe e-waste disposal since 2012
Fortunately, all is not lost, weeecentre.com an e-waste management company based in Nairobi, Kenya, with regional offices in Kisumu, Nakuru, Nanyuki, Machakos and Mombasa, is at the forefront of battling the e-waste menace, striving for 100 % circularity within its operations and pushing for circular electronics. The centre is also on the move to expand, and have a presence in more regions as well in the continent.
Weeecentre.com offers services of: safe e-waste management, secure data destruction, refurbishment of computers, purchase or rental of refurbished or new ICT-equipment, sales of reusable items and material fractions. Since its inception in 2012, WEEE Centre has been on a mission to secure a green and clean environment through safe management of e-waste. The company also prides itself in its contribution to digital literacy and greater awareness on health and environmental issues. Nevertheless, it creates local job opportunities, and skills development within a circular, green, economy.
WEEE Centre is an off shoot of the non-profit Computers For Schools Kenya (CFSK), which started 2002 with donations of refurbished computers to bridge the digital gap in Kenyan schools. Since then, CFSK has deployed over 400,500 personal computers with fully installed software to more than 12,000 public secondary and primary schools, technical institutes, teacher training colleges, medical training centres and several universities.
After a few years of CFSK-operations, a take-back and recycling scheme was developed, which eventually was made into a business of its own in WEEE Centre. Today there are also two other companies in the family – one, CFSK Institute, offering Diploma or Certificate courses in Information Communication Technology skills, entrepreneurship, Information Technology -hardware and accounting for example. The other, Digital Pipeline Africa (DPA), offers ITAD services for Business-to-Business.
Challenges and opportunities
One big challenge for WEEE Centre is the lack of awareness and support from legislative framework. Most people neither know of the hazards for health and environment with a wrong handling, nor do they know that there is a company which can take proper care of the e-waste.
The biggest opportunity, which is actually the greatest challenge, is that more than 50 thousand tonnes of e-waste is produced in Kenya each year. Of this only about 1 % is safely managed today. This means there is a lot of items handled without safety measures and being left out in nature contaminating soils and water, but also that people are paying a lot of money for storing old equipment in offices and homes.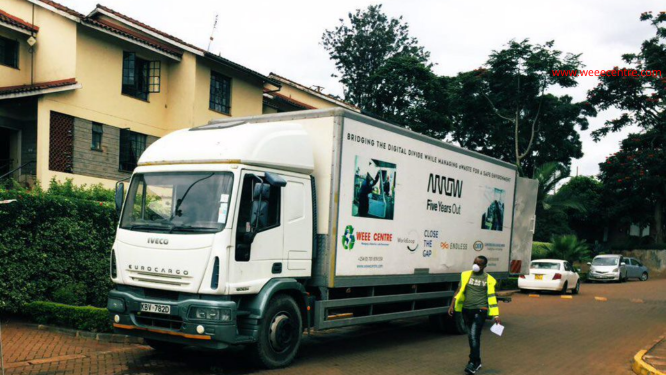 WEEE Centre collects all types of e-waste, like printers, computers, phones, household appliances, stoves, fridges, lamps, TVs and batteries. So far, it has collected more than 10 000 tonnes of e-waste, which translates to more than 14 400 tonnes of CO2-emissions avoided.
The company boasts of various projects under its name, like an exchange program financed by NOREC, sharing knowledge of e-waste management with a partner in Madagascar, benefiting 12 people directly during 2018-2020 period. Additionally, it has done awareness creation projects to general public with Oracle and have partnered up with Majid Al Futtain, a French hypermarket trading as Carrefour in Kenya to provide Drop-Off points in their stores. With two solar powered "Digitrucks", WEEE Centre provide ICT- and entrepreneurship skills in remote locations without electricity, for more than 1000 persons per year.
Besides these efforts, 630 Small Medium Enterprises have been trained on safe e-waste management, and over 600 jobs for youths and women have been enabled. In 2020, WEEE Centre trained more than 100 youths from informal sector in collaboration with Safaricom.
Expanding to meet the needs of safe e-waste disposal
WEEE Centre is now aiming to expand in Kenya and Africa, providing more drop-off points for collection and having partnerships across sectors to reach its vision of safely managing all obsolete and end-of-life e-waste. Currently, the company has a network of partners in 15 countries across the Continent, whom it works with for awareness raising, training, advocacy on regulations and management systems, besides safe disposal of e-waste.
With investments in new technologies WEEE Centre will be able to treat all fractions locally, instead of shipping to partners abroad, and it looks forward to strengthening its operations as a central facility for final disposition and treatment of problematic e-waste fractions in the region.
Techub is a satisfied customer and partner of WEEE Centre. We recommend that you Partner with WEEE Centre today by contacting us through info@techub.no to ensure an African continent with excellent mechanism of disposing obsolete electric gadgets.
We Are Social Too. Connect With Us on Our Social Media Platforms by Clicking on the below icons.